For professionals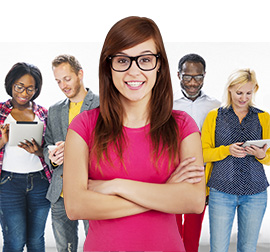 Germany is renowned for secure jobs, fair pay, and various opportunities for further education. Employland makes your path to Germany simple - Find a job with us! We will also look after your visa, the recognition of your qualifications, your residence permit, and your employment permit.
Creating a profile is easy and does not cost a cent - and you can do so on your cell phone
Our complete range of services is free of charge for professionals who register with us and publish their profile.
After you register and confirm your email address, you can complete and publish your profile. We check the data that you entered for plausibility and then activate your profile. German employers can then find you and contact you. Your contact data (name, address, phone, email address) will not be displayed publicly.
You can make additions or changes to your profile at any time or deactivate and publish it again.
Only registered employers get the full profile view
Only companies registered with Employland and located in Germany get to view complete profiles and are able to contact you.
Interested employers can send you a message via our platform if they want to establish contact with you.
We will look after your visa, recognition, residence and employment permits
If you need an entry visa, a residence permit or the recognition of your qualifications, we usually look after all of that, often on behalf of your future employer. We cooperate with qualified lawyers in this process.
The three negotiation phases up to the employment contract
1. Getting to know each other:
After the initial approach by the employer via our platform, you can get to know each other better by phone, chat, or email. Your potential employer may even invite you to Germany for a job interview.
2. Concrete contract negotiation:
If the "getting to know you" stage progresses positively, the employer may want to negotiate concrete details of an employment contract with you. We will inform you of the company's offer to negotiate by email. By clicking the mouse, you can accept or reject the offer.
accept: You then negotiate the employment contract in concrete terms: desired start date, your concrete occupation with your employer, working hours per week, vacation days per year, length of probation period, period of notice, gross salary and other details. Extensive information about a typical employment contract in Germany can be found here in our blog.
reject: Your contact with the employer most likely comes to an end
Please note that you can conduct a maximum of two concrete contract negotiations at any one time. If you accept two offers to negotiate, your data will no longer be publicly visible and other employers will not be able to contact you.
If one of the two concrete contract negotiations breaks down, you can cancel the negotiation on Employland by clicking the mouse. Your profile will then be visible again to all potential employers, who will then be able to contact you once you have published your profile.
3. Signing the employment contract:
If you conclude an employment contract with an employer, we request that you inform us via the link "Negotiations already completed". Only then - once you have taken up your employment - can we bill the employer for successful recruitment. That is how we make a living and in this way we can offer you our services free of charge.