For employers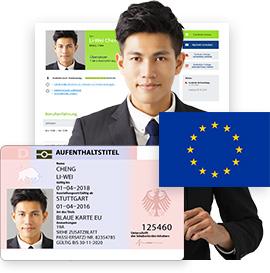 On our platform you find international professionals with qualifications that are scarce in the German labor market. In cooperation with qualified lawyers, we are glad to look after matters concerning visas, the recognition of qualifications and residence permits for your new employees.
It doesn't get any fairer than this - three steps to success
1. Free access
Register a German-based subsidiary of your company free of charge and start immediately.
Targeted selection of your candidates: All relevant details about the specialists, photos and documents are displayed.
Keep track of professional job-seekers and manage them in your personal favorites list.
Create job searches: we will notify you via email about new suitable candidates.
Contact skilled employees. This first contact takes place by email via our platform.
2. Concluding employment contracts
If you sign a contract with a specialist and the specialist has started working with you, we will then charge you our recruitment fee, 10% of the first gross annual salary.
3. Optional legal tasks at a fixed price
We handle the necessary paperwork for obtaining residence permits or qualification certificates at a fixed price, if you wish.
Negotiation with professionals in detail
You can make the negotiation phases visible to your candidates on Employland. With one simple click, you can send a professional a concrete offer to negotiate an employment contract.
The professional can accept or reject your offer by clicking the mouse.
accept: You can negotiate the concrete contents of the contract
reject: Your contact with the professional most likely comes to an end
We will inform you of the professional's response via email.
The profiles of professionals are visible on our platform only until the respective professional accepts two offers to negotiate. The profile will then no longer be visible to other potential employers, to ensure that your negotiations with the selected professional are not disrupted by other approaches.
If you decide not to recruit the applicant, we request that you cancel the negotiation on Employland by clicking the mouse. Only then will the data of the corresponding professional become visible to other employers again (the professional can also cancel the negotiation and will then also appear again).
Employment contract
You inform us of the realization of an employment contract. The profile of the respective professional will then be blocked for all other employers once the professional has confirmed the contract signing by clicking the mouse. The professional can also be the one to communicate the signing of the contract by clicking the mouse; their profile will then no longer be visible to other employers.
Of course, you will not receive an invoice at this stage yet; we will only have earned our recruitment fee once the professional has actually taken up employment. Only then will we bill you, the employer, our commission fee in the amount of 10% of the first gross annual salary.